Sales Father's Day 2017
The Best Gifts For Dad in Bogota
SPECIAL SALES
LIMITED TIME! LIMITED STOCK!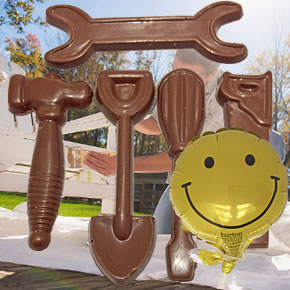 FATHER'S DAY SALE!: Pick your Gift for Dad and you will get for FREE**:
1. One Chocolate Tool Kit (Regular price: $12.900 COP)
2. One Smiley Face Foil Balloon to make Dad smile on his day! (Regular Price $9.000 COP)
3. PLUS! An additional 5% discount on your final price!
To earn the special gifts above, you must enter our special Coupon "daddy" in lowercase without the quotes.
**You must buy a product or gift over $49,990 COP. Limited stock of Chocolate Tool Kits!
40% DISCOUNT ON TUESDAY JUNE 13! TWO HOURS ONLY!
Next Tuesday June 13 we will offer a 40 % discount starting at 11:00 AM until - 1:00 PM! (*Colombian Time)
What products or Gifts include the additional 40% Discount?
+ Just the PRODUCTS listed below!
+ Check the Final Prices available on Tuesday JUNE 13 ONLY! (11 AM-1 PM).
+ These products are the Best Selling Gifts for Men at Floristería JM.
+ You can use our coupon "daddy" which will add 5% to your final price: Total Discount 45% !
Click here to buy these selected products! :
GIFTS WITH 40% DISCOUNT ON FATHER'S DAY
PRODUCTS WITH 40% DISCOUNT: